Gutter Clean Out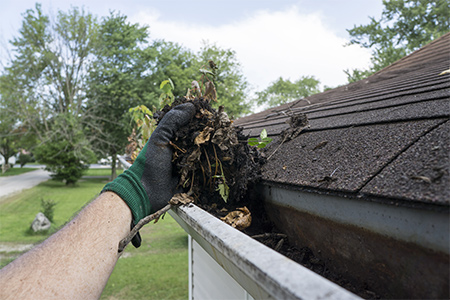 Taking care of the outside of your home or business is important, and one of the most vital outdoor tasks is ensuring your rain gutters and downspouts are clean. You can do this work yourself, but it is a dirty and dangerous job. That's why it pays to leave it to the professionals. Integrity Roof Cleaning offers its gutter cleanout services to customers across the Townville, SC, area. We have extensive experience cleaning gutters, and our family owned and operated company strives to do a thorough job while providing you with excellent customer service.
You get a number of benefits when you hire Integrity Roof Cleaning to clean out your gutters and downspouts. The most important benefit, of course, is ensuring your gutters and downspouts are free of clogs and work properly. This will help to prevent problems with water infiltration in your roof or around your building's foundation. Professional gutter cleaning also helps to maintain your gutters, which prolongs their life and protects your investment. And hiring us to do the work saves you time and energy, which is another benefit.
We take professionalism and safety very seriously. Our gutter technicians are experienced and have training. When it comes to safety, we use equipment and cleaning solutions that are of the highest quality.
For all your gutter cleaning needs, call the experts at Integrity Roof Cleaning. Our family owned and operated company serves all of Townville, SC, and we strive to provide excellent service to all of those who hire us.